08 Nov , 22

WHEN ART IMITATES LIFE - Luxury bath brand Artize's





Luxury bath brand Artize's latest video from The Artboard—a first-of-its-kind video series created in collaboration with Architectural Digest India—shines the spotlight on AD100 architect Sandeep Khosla and graphic designer Tania Singh Khosla's gorgeous home. The duo take us through their artistic vision and talk about their common design philosophy that is rooted in contextualism

What makes it easy for graphic designer Tania Singh Khosla and architect Sandeep Khosla to run their architecture firm together is their shared passion for design. Known for pushing the boundaries of style and innovation and bringing their own set of expertise to projects, the pair met each other as art students in New York, eventually building a life together. "I think we're both strongheaded designers, so I have to say that it wasn't particularly easy in the beginning. There was a lot of conversation and brainstorming," confesses Tania as she talks about how the duo evolved and grew in their journey of design. No surprise then that the couple was a perfect fit to feature in luxury bath brand Artize and AD's—The Artboard—a video series that delves into the art inspiration behind the works of architects and interior designers, reiterating how almost every piece of artwork is always born from art. Inspired by iconic art movements and celebrated artworks, Artize's products are bold yet elegant, futuristic yet rooted in tradition, and are the epitome of form meets function while embodying the brand's 'Born From Art' design philosophy. "I think the way one defines or perceives art has very little to do with your creative profession and more to do with what makes you respond", says Sandeep as he proceeds to give us a glimpse into their beautiful abode that is a celebration of great design and art.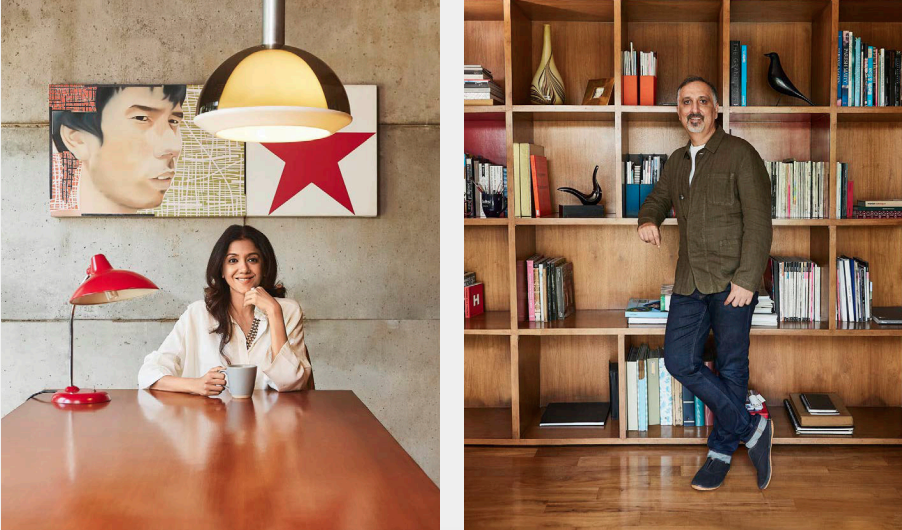 SANDEEP KHOSLA AND TANIA SINGH KHOSLA'S DESIGN PHILOSOPHY
Sandeep and Tania's common love for contextualism is evident in their house which derives inspiration from natural elements and is flooded with natural light. "We're contextualists who believe that architecture and design should be rooted in one's environment", says Sandeep.
"Sandeep is a master when it comes to handling light and space so our house is infused with a lot of natural light. I wanted our space to be a reflection of who we both are, the lives we've built, both of our sensibilities, and be a vessel and a holding place for this lovely journey that we've been on", adds Tania. While Tanya is particularly attracted to graphic art, that has a strong narrative and storytelling quality to it, and makes her really think about the way she looks at the world, Sandeep gravitates towards artwork that is mysterious, layered, has multiple meanings, [and] work which has a special quality. "I have been quite influenced by tropical modernism and critical regionalism which kind of challenged the blandness of the international style. Art should imitate life. It is deeply influenced by the environment and the world in which we live. It is influenced by our human condition, the way humans are destroying the planet. Art should say something", Sandeep explains and Tanya adds that [art should] shape life, and change the dynamics of the world around us.
Sandeep's idea of art stems from the thought that it should shift your perspective and stroke your imagination. Similarly, Tailwater by Artize takes its artistic cue from nature while evoking one's imagination. Echoing the sinuous form of a bird, the Tailwater faucet flaunts a minimalist aesthetic expressed by a beautifully engineered piece of industrial design that celebrates the abundance of nature. Its innovative design is inspired by the natural form of a bird perched on the edge of a lake. The sinuous curve of the spout ensures the graceful movement of water, which reminds one to slow down and appreciate the finer things in life.
To explore an entire range of exquisite o!erings, visit the Artize Atelier in Mumbai.