08 Nov , 22

THE ART OF GOOD DESIGN - Premium Bathroom Accessories

Fine aesthetic and luxury deserve a space in every part of your life, including your bathroom. It deserves to exude the elegance that you embody. And luxury bath brand Artize's product o!erings promise to do just that. Inspired by iconic art movements and celebrated artworks, Artize's products are bold yet elegant, futuristic yet rooted in tradition, and are the epitome of form meets function while embodying the brand's 'Born From Art' design philosophy. And imbibing this very philosophy, Artize and Architectural Digest have come together to create a video series—The ArtBoard—that delves into the art inspiration behind the works of some of India's most well-known architects and designers who shine a light on their inspiration, passions, and design process. Featuring architect Sanjay Puri, the second episode gives an insight into Puri's design studio even as he discusses his design philosophy, what constitutes good design, and more.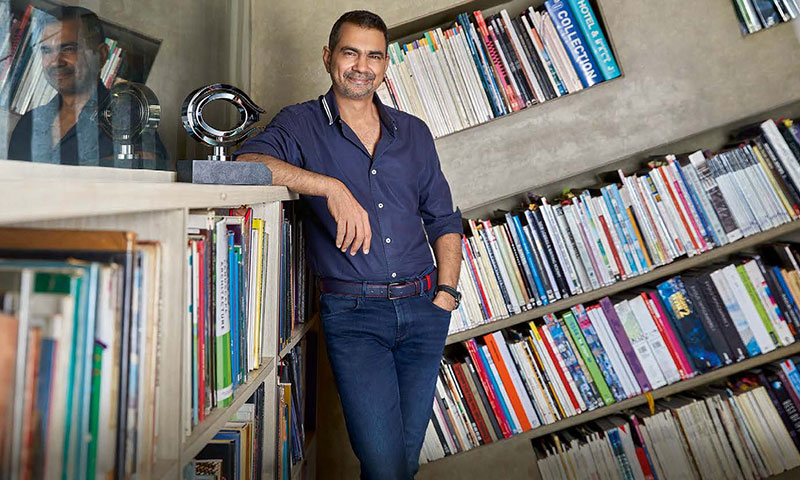 SANJAY PURI—PRINCIPAL ARCHITECT, SANJAY PURI ARCHITECTS
While Puri traces his journey of becoming one of the most renowned architects in the country, he recalls being heavily influenced by the protagonist in writer Ayn Rands' much-acclaimed novel Fountainhead. "When I was 15, I happened to read Fountainhead. The book was so arresting because Howard Roark the protagonist—an architect refuses to conform to norms and does what he needs to do at his architectural site. The site and the material spoke to him and that in itself was so hard-hitting that it triggered me to explore what architecture is all about and what it entails," he says.
This has translated into his work as Puri doesn't believe in a one-size-fitsall approach when it comes to design and tries to keep it contextual. "Art and architecture are constantly changing. I think the whole world is moving to art that makes you experience something more rather than just looking at it on a wall. So I don't think there can be one design philosophy that works at large across all projects. Every project is di!erent so what we try to do is keep it contextual, crisp, and resolve designs where people experience something new every time," he adds.
THE POWER OF DESIGN
Puri also believes that good design a!ects people positively and that is something he strives to bring to the table with each project. "The quality of space matters, along with the quality of light and ventilation. Getting in natural light is beneficial to the way you think and the way you feel," he shares. And while good design and technology go hand in hand, the AD100 architect says that sketching is the best way to put your thoughts to paper. "I spend every morning in my cabin alone only designing, and all my designing is done in the form of sketches because I don't think there is any software that is as fast or as quick as translating what you're thinking in your head simultaneously onto paper as a simple sketch."
Inspired by the power of great design, which has the potential to a!ect people positively, Tiaara by Artize is a celebration of the diverse sculptural arts practised around the world. A unique combination of e!ortless functionality with a stunning form, Artize Tiaara is like art for the bathroom—designed with echoing ovals that lend a unique sculptural quality to the faucet, elevating its usage into a memorable experience. To explore an entire range of exquisite o!erings, visit the Artize Atelier in Mumbai.