08 Nov , 22

Award-winning bathroom fitting from the luxury bath brand's Artize Signature Collection

SPECIAL FEATURE

If you thought exquisite artwork was only reserved for your living room or bedrooms, think again, because luxury bath brand Artize is here to change that perception. Proving that there is no reason the most intimate space in our homes should be devoid of any artistic aesthetic, Artize's product offerings flaunt sleek designs, precision craftsmanship, and meticulous finishes fused with state-of-the-art technology, completely transforming your bathing experience. Inspired by iconic art movements and celebrated artworks, Artize's products are bold yet elegant, futuristic yet rooted in tradition, and are the epitome of form- meets function while embodying the brand's 'Born From Art' design philosophy.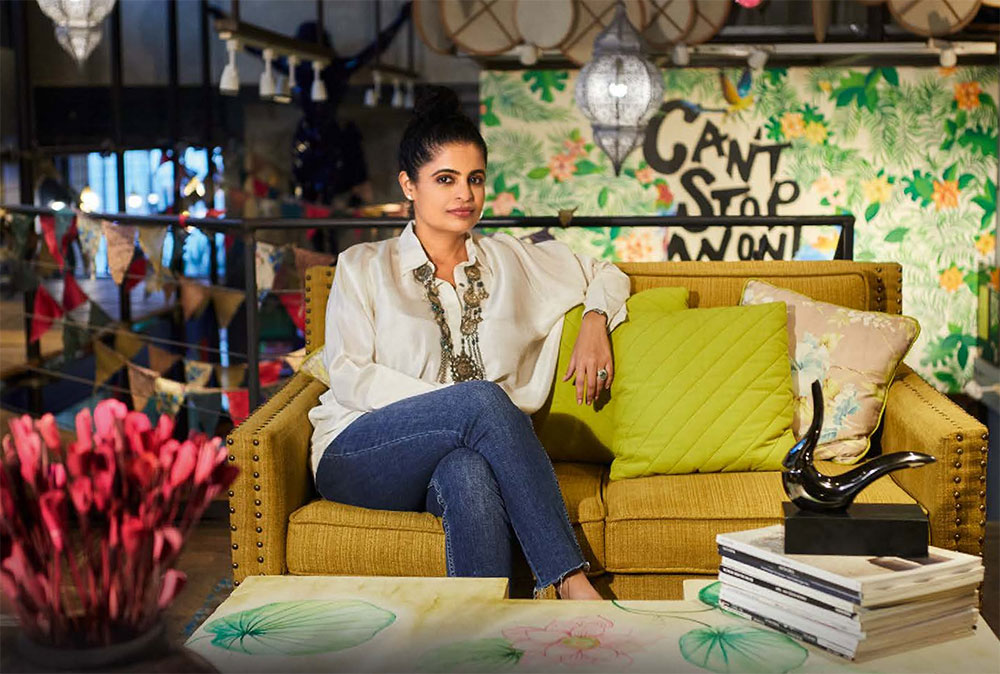 Spotted here in the image with Shabnam Gupta is Artize Tailwater—
an award-winning bathroom fitting from the luxury bath brand's Signature Collection
Luxury bath brand Artize's latest video from the Art Board Series spotlights celebrated interior designer Shabnam Gupta from the award-winning design firm, The Orange Lane. While delving deep into artistic inspirations behind her creations, she also talks about her people-centric design philosophy and her idea of a dream project
Therefore, an Artize offering is not merely functional, but an object of beauty that flaunts globally renowned designs by award winning artists. And imbibing the 'Born From Art' philosophy. Artize and AD have come together to create a video series—The Art Board Series—that delves into the art inspiration behind the works of architects and interior designers, reiterating how almost every piece of artwork is always born from art. Kickstarting this series is Shabnam Gupta, Principal Designer— The Orange Lane who talks about art movements, aesthetics or philosophies that inspire her, while she shares her design process with us.
SHABNAM GUPTA, PRINCIPAL DESIGNER, THE ORANGE LANE
With a design philosophy that celebrates the art of collaboration with people at the core of everything, Shabnam Gupta firmly puts people before design and function before form. It's not surprising that her creations are a result of her deep understanding of the dynamics that design shares with people and the responsibility that comes with it. "I draw my inspirations from people, travel and different cultures. I enjoy not collecting pieces, but collecting memories. I think as you keep evolving in your work you kind of come to understand and accept what you really stand for," Gupta explains.
Talking about being a 'maximalist at heart', Gupta isn't unafraid to mix things up. "I think art is design and design is art, to a very large extent—it's such a blurred line. I am someone who sees things more differently than others do so I am not limited in what I enjoy visually. I would like to believe that the future should be where art is accessible to everyone—and art is not limited only to acquired art," she says. With an aim to create a project that showcases India in all her vibrant glory, Gupta shares that her dream project would be where a client is part of the vision, of being able to create a space which encompasses about colour, it's about celebrating life everyday, about colours creating emotions," she says.
Created by and for connoisseurs with a 'Born From Art' design philosophy, luxury bath brand Artize's signature offering Tailwater is bold yet elegant, futuristic yet masculine, and takes inspiration from the iconic Art Deco style of architecture. Echoing the sinuous form of a bird perched on the edge of a pool, the Tailwater faucet flaunts a minimalist aesthetic expressed by a beautifully engineered piece of industrial design that celebrates the abundance of nature. The result of research into how architectural style can be artistically engineered to complement contemporary design, the innovative, fluid, almost-sculptural piece is an iconic bathroom fitting that Illustrates technical know-how while deriving inspiration from nature.